"The current pandemic has led us to social distancing as a preventive measure and to collective panic as a reaction to the unknown phenomenon. During the last two or three months we have been waiting for encouraging news to resume our lives while we have been watching the latest events from the screen of the digital circus. For most this has undoubtedly been an apparently endless period of despair, anxiety, uncertainty and deep learning, but mainly a time to realize how vulnerable we all can be. As humanity rises and recovers from this terrifying global drama, nature finds a brief moment to breathe again after centuries of human abuse."
To visit Diana Farfán´s website, click here.
The Mother Nature's Response Series
by Alejandro García Lemos
As usual, Diana Farfán's work surprises us with her expresionistic poignancy and creativity. This time departing from her traditional use of ceramic sculptures, Diana presents us with a number of digital images directly in connection with the common experience that we are all confronting: our relation to Social Distancing and the use of protective masks.
In this hyperbolic political time, the use of masks somehow, has become a political stance for those who wear them, or not. This unexpected item, the mask, takes the central stage in her pieces. Masks that talk on their own, masks that represent the newscasts (ABC News), as well as as our potential closeness, or lack thereof to the others. Diana creates a reflection about how the protective masks that help us stay healthy at the same time isolate us from the others; thus creating a sense of isolation, social distance and seclusion, but not only to the others but also to our selves. In her images, the hands become the language, through gestures, signs and expressions, as if we don't have mouths anymore or they are replaced by our eyes and hands, once they have been muted by the masks.
Diana is a prolific Colombian-American artist residing for many years in Greenville, South Carolina and an active member and former Board Member of Palmetto LUNA ARTS.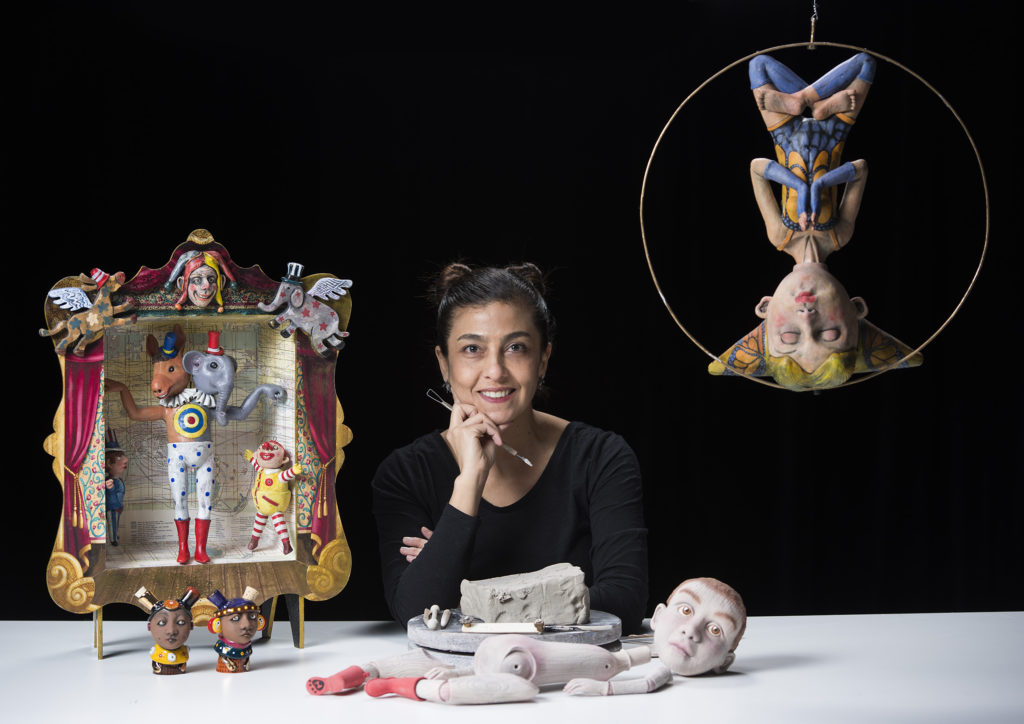 Diana Farfán is an award-winning ceramic sculptor, instructor and cultural promoter in South Carolina. She is an instrumental leader helping Latino artists to make their voices louder and stronger. Also an advocate for animal welfare and the natural environment, Diana supports local organizations by increasing awareness of Humane Education for the youth through the arts. Diana holds a B.A. in Graphic Design, a B.F.A. in Ceramic and Printmaking from Universidad Nacional de Colombia, and a M.F.A. in Ceramic Sculpture from University of South Carolina. She is a member of the International Academy of Ceramics, the Liberty Fellowship and the Aspen Global Leadership Network.
For more information on her work please visit http://dianafarfan.com