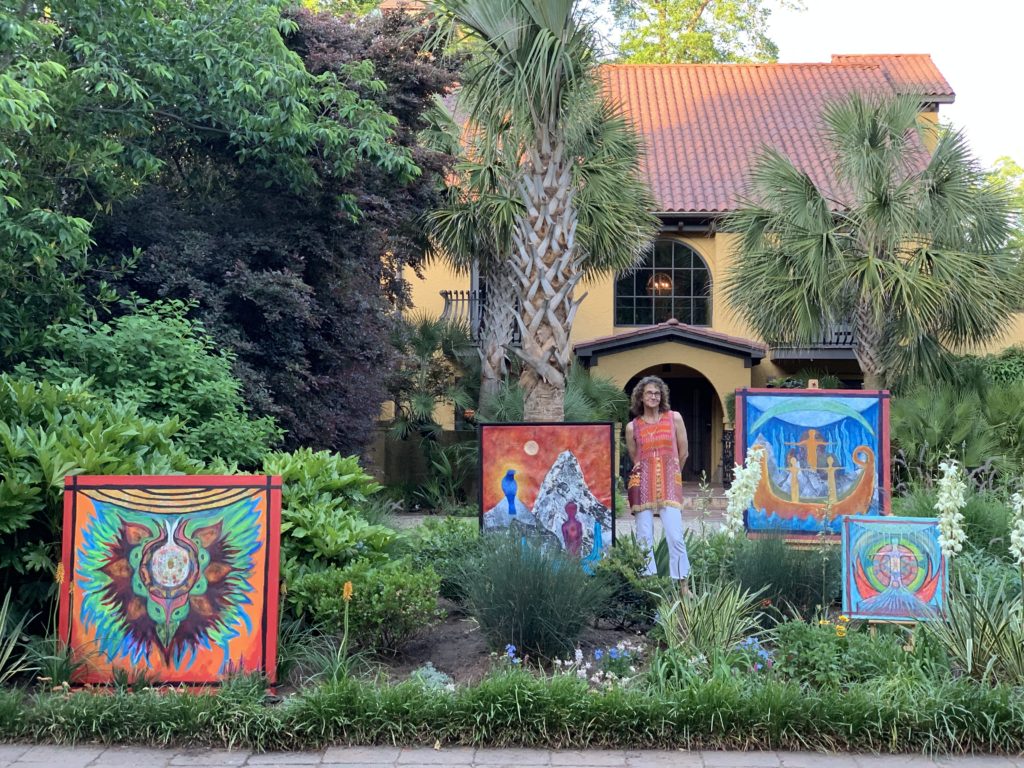 Covid-19 Social Distancing
March 2020
The crazy thing about the upheaval of Covid-19 is that it showed up during one of our most gorgeous spring times in current history. It made the level of its surrealness unsettling – our skies seem bluer, the birds happier, the trees greener, the air cleaner, the breezes lighter, the temperatures perfectly refreshing. There was and still is a sparkling vividness to the world that surrounds me/us. Yet the emotional and spiritual drain of the pandemic wafts through this paradise. There are many days when I feel I am in a nightmare, riding an emotional roller coaster, flying through a tangled mess of ever-evolving, out-of-control complicatedness. I move in and out fear, frustration, gratitude, anger, anxiety, laughter, tears and emotions I don't even have words for.
As the world continues to suffer deeply, I am one of the fortunate ones who is merely inconvenienced. All my family members are employed. We have shelter and food of which I am grateful but therein lies another layer of guilt. As Covid-19 ravishes our world, creating art is the furthest thing from my mind. For now, it seems self-indulgent, and non-essential. I enter into the familiar conversation that I have with myself from time to time – Does Art Matter? I know it does but … Why Does Art Matters? It's always been difficult to live within a culture that really doesn't value the life of artists. But that is a whole other story.
For the first couple of months I didn't step foot in the studio, becoming obsessed with satisfying mundane "chores" and making sure my family stayed safe. My mornings became filled with caring for two of my toddler grandchildren so their parents could work. All this segues into an unconscious need for something more, as words like sheltering in place, quarantine, social distancing, and isolation creep into my/our everyday vernacular and dominates conversations.
April 2020
I strip my desk clean and build a new altar around my two computer screens.
I strip my stagnant home studio inspiration wall and fill it with fresh, new insights.
I strip my street front, overgrown garden and fill it with pollinating perennials.
Strictly following the Stay-at-Home order, my only essential outings are MASKED and into the paradise of garden centers. Plants call out "Take Me Home! No, No, Not Her, ME!" I paint with Blue Larkspur, Giant Blue Iris, Dessert Eve Red Yarrow, Blazing Sunset Chilean Avens… The earth becomes my canvas.
May 2020
Serendipitously, the angst and the existential contemplation of Covid-19 shifts as moments of comforting grace unexpectedly fold into the constant global suffering. Forced isolation naturally evokes a state of turning inwards, a time of self-reflection reminding me/us of the fragility of life and that our time on Earth is limited. When out-of-the-blue life unravels, we summon the courage to begin again, to dare bravely, discovering fresh perspectives so we can begin to live within my/our new reality.
Stepping back into my creative process, I feel like a stranger in a strange land. Living within a world-shattering crisis is hard to sort out but it is nudging me towards a greater understanding of the uncertainties of life, my inevitable mortality and what matters most.
I am comfortably lost. Comfortable because I have faith in the process of artmaking as She has never failed me. She assists me in understanding my life and the unpredictable world I/we live in. Strangely, many of these works were started before the pandemic. In 2019, my artmaking was led in a new direction. Unsure of where She was leading me, I trusted the process and kept painting. I am now living into the story these images are telling. It is my hope that this series of works, Daring Bravely, will inspire you to dream of a future world we will all create together.
Hope is a Thing with Feathers
Emily Dickinson
Hope is the thing with feathers 
That perches in the soul, 
And sings the tune without the words,
And never stops at all.
And sweetest in the gale is heard;
And sore must be the storm
That could abash the little bird 
That kept so many warm.
I've heard it in the chilliest land,
And on the strangest sea;
Yet, never, in extremity,
It asked a crumb of me.
Having worked as a professional artist for over 40 years, Darr-Hope has accumulated many accolades. She's proudest of the Elizabeth O'Neil Verner Award – South Carolina's highest awards in the arts. Her work's been exhibited and collected around the globe and is influenced by her enthusiastic passion for travel, her quest to understand her nighttime dreams and her longing to find the quiet in the roar. Her artworks are expressions of the universal search for meaning. You can find out more about her at http://www.darr-hope.com/ and her teaching at http://www.healingicons.org/