Birds our most beloved companions at the time
In April 22, 2020 I created this basic map of the bird nests in our house. The idea of Social Distancing was better exemplified to me by nature. The birds that always have been our companions in this house for the past 12 years were showing us exactly how to practice Social Distancing.
Map of the nests and birds at home
Britt and I have been living in this house, the Friday Cottage, for 12 years, which means that we were already able to survive a major financial crisis, the Great Recession I think they called it. During the years 2007 and 2008 a major downturn in the economy resulted in the loss of many properties country wide. We thought that we could lose ours, like many other people's homes, our house was considered "Under Water" an financial expression coined during the recession period to describe the properties whose real estate values were inferior to the market price. Thus, in 2008 I created this piece "Home Under Water"
Under these unexpected circumstances, isolated on our homes, our house became our main source of distraction and refuge and joy, as well as the best way to entertain us during this very long Spring. So it was unavoidable that I started enjoying nature–and birds in particular. They have not left us, on the contrary, the birds have been bringing us joy and satisfaction every day. So, even though I have been working on a painting of our house again, at the same time I have been rejoicing with the birds and decided to honor them as my company during this Social Distancing time.
So, here are a series of photos of a new painting of our house still in process, which I expect to finish sometime over the next two weeks. Our house and its nature, that what has kept us sane…
---
More importantly, here is a sample of the birds that have been our company. The first one is a beautiful Towhee, they jump all the time.
Bird Taxonomy of Our Garden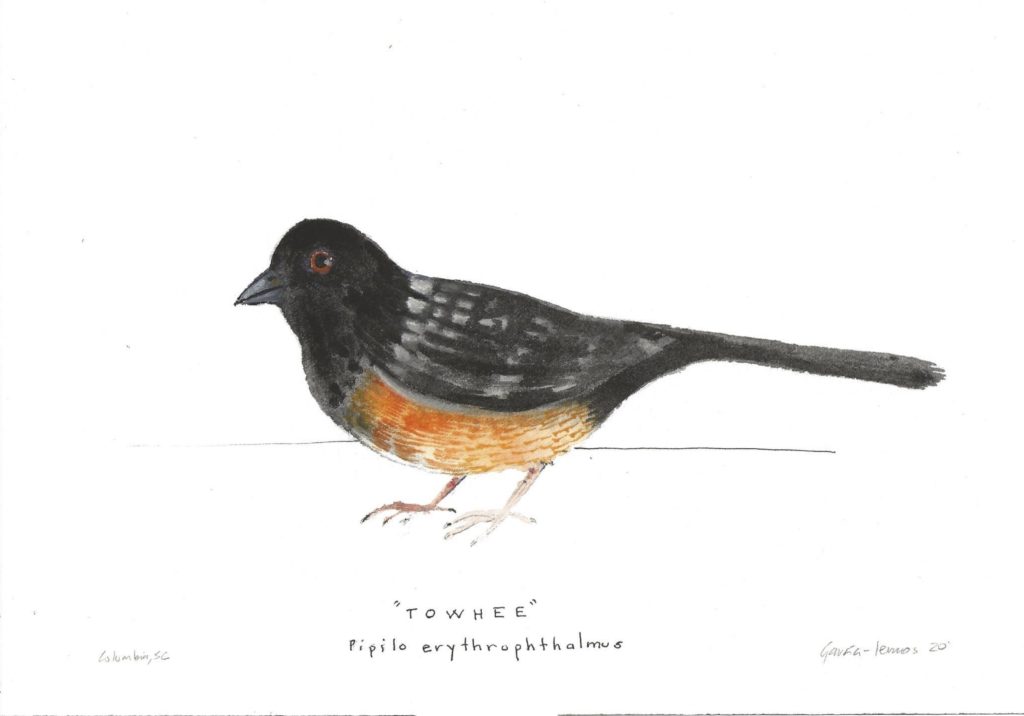 ---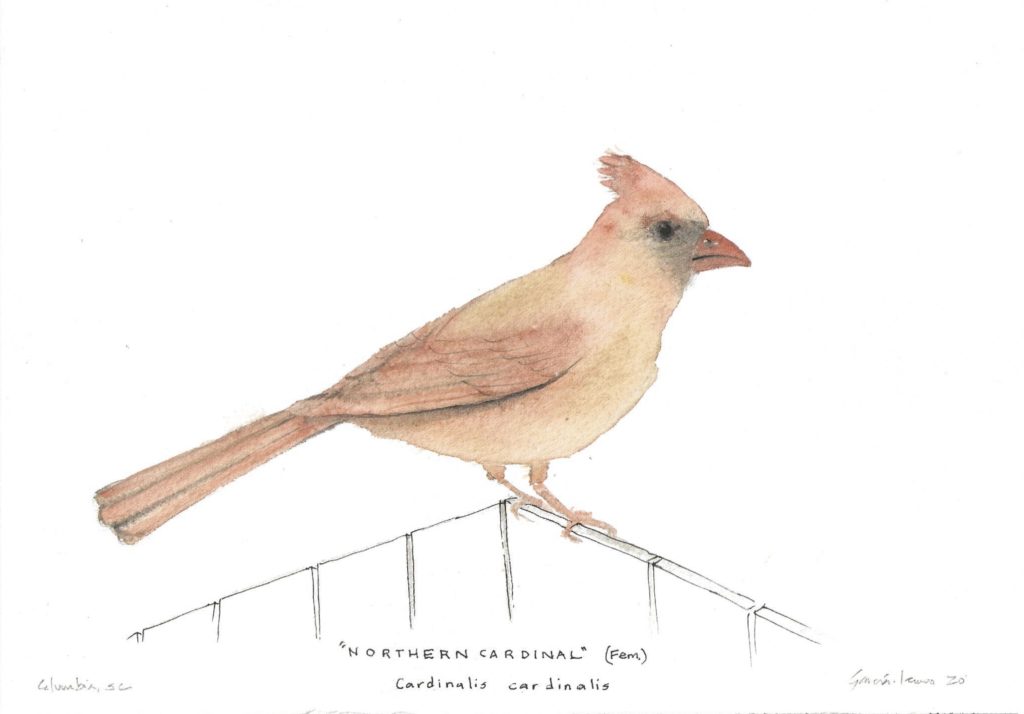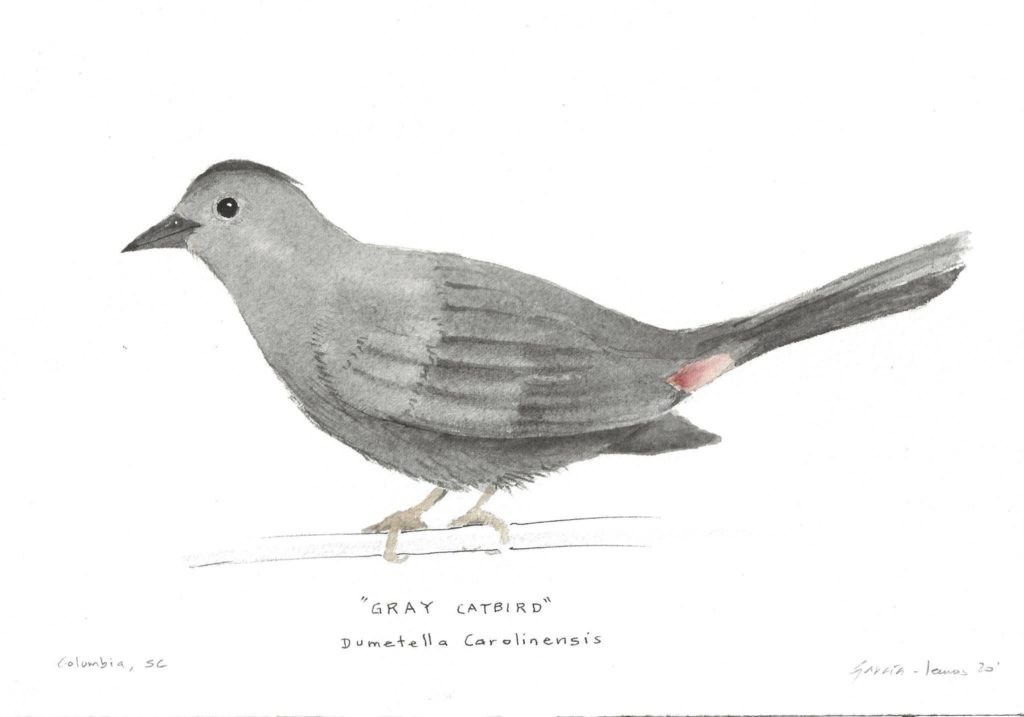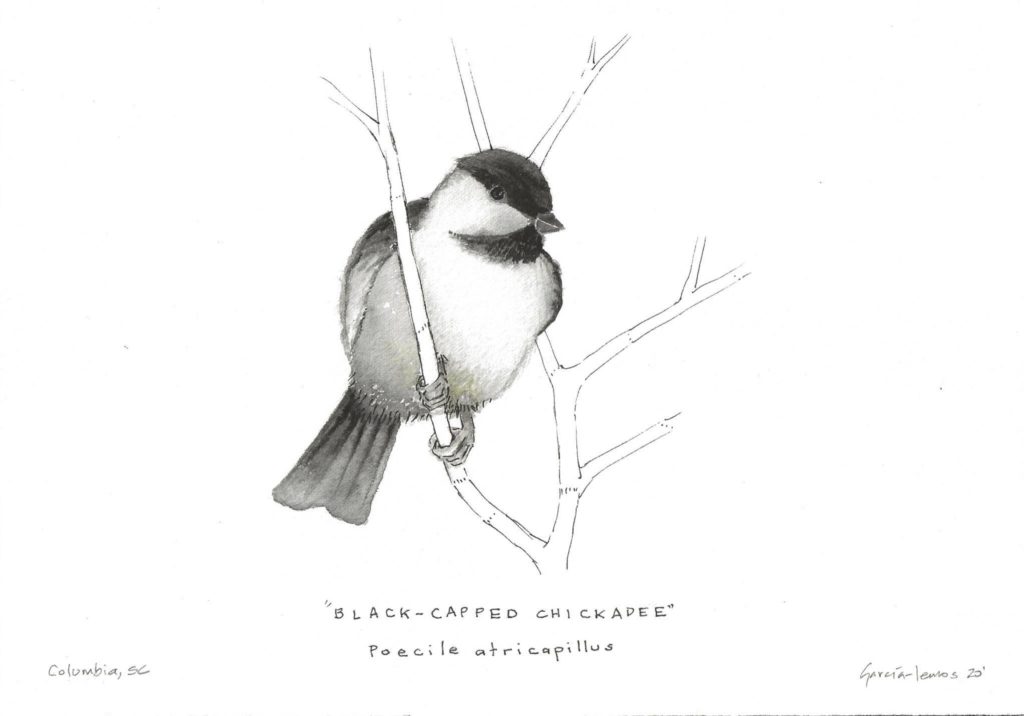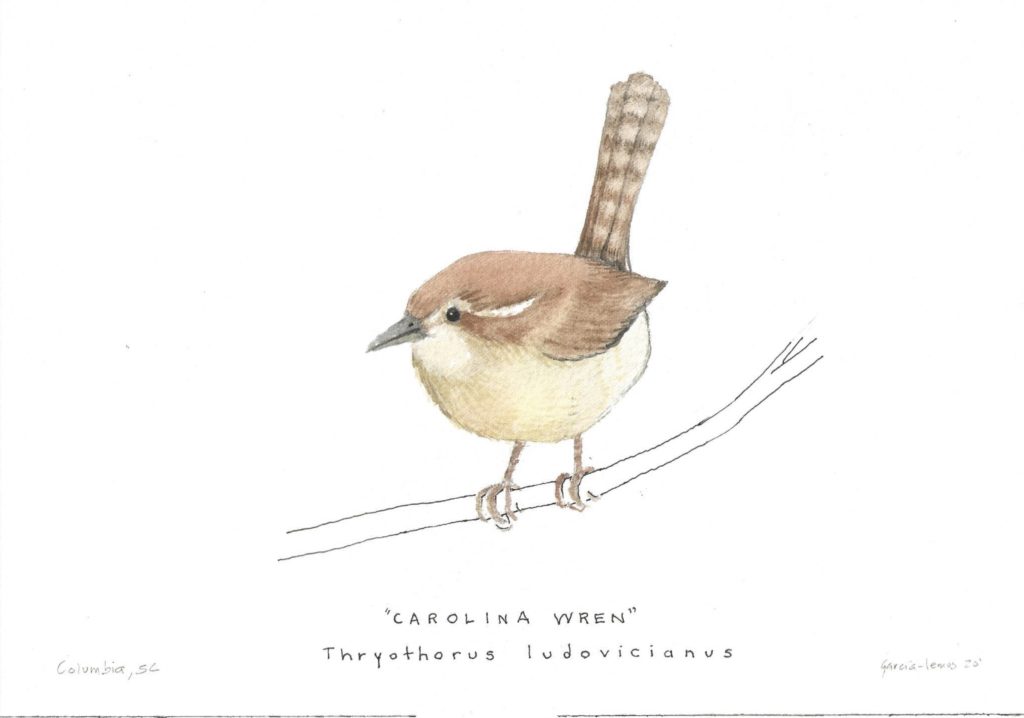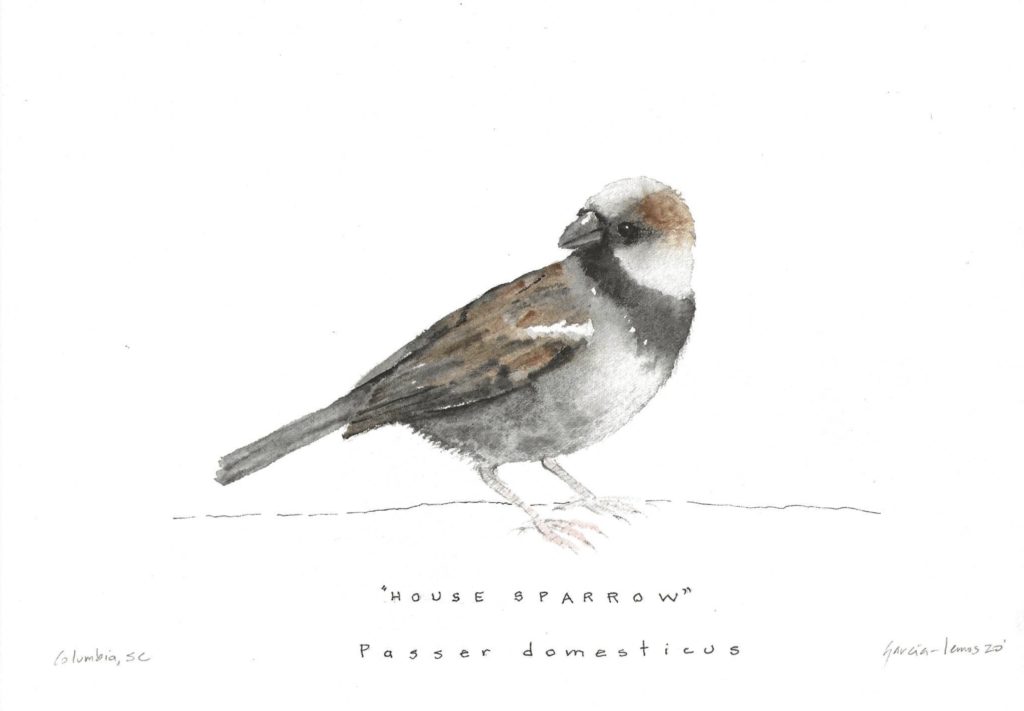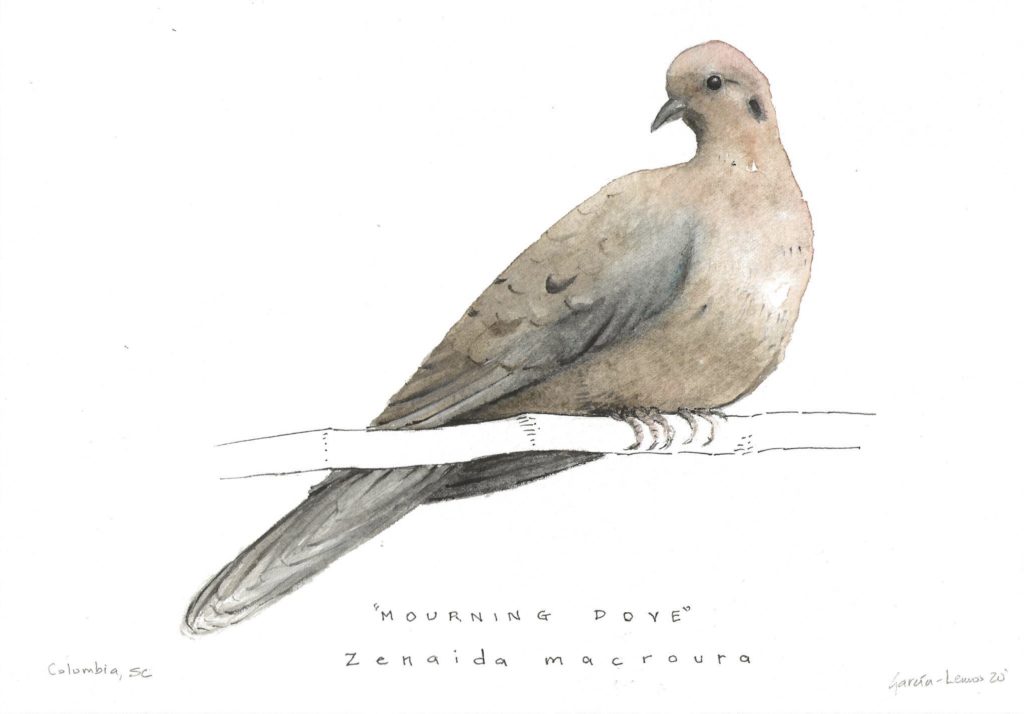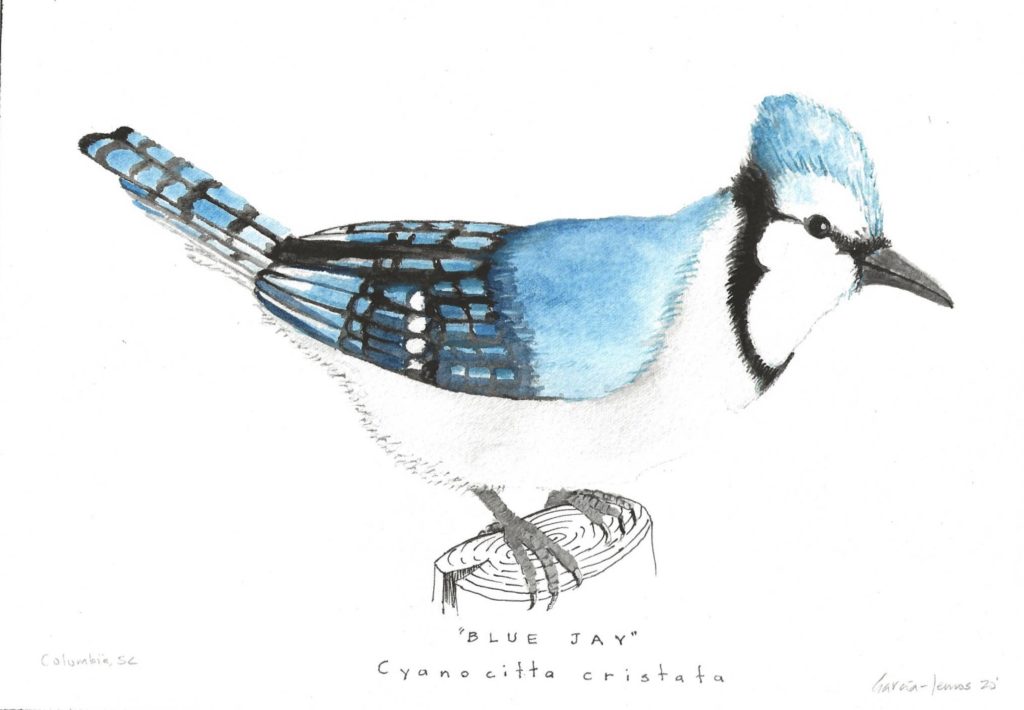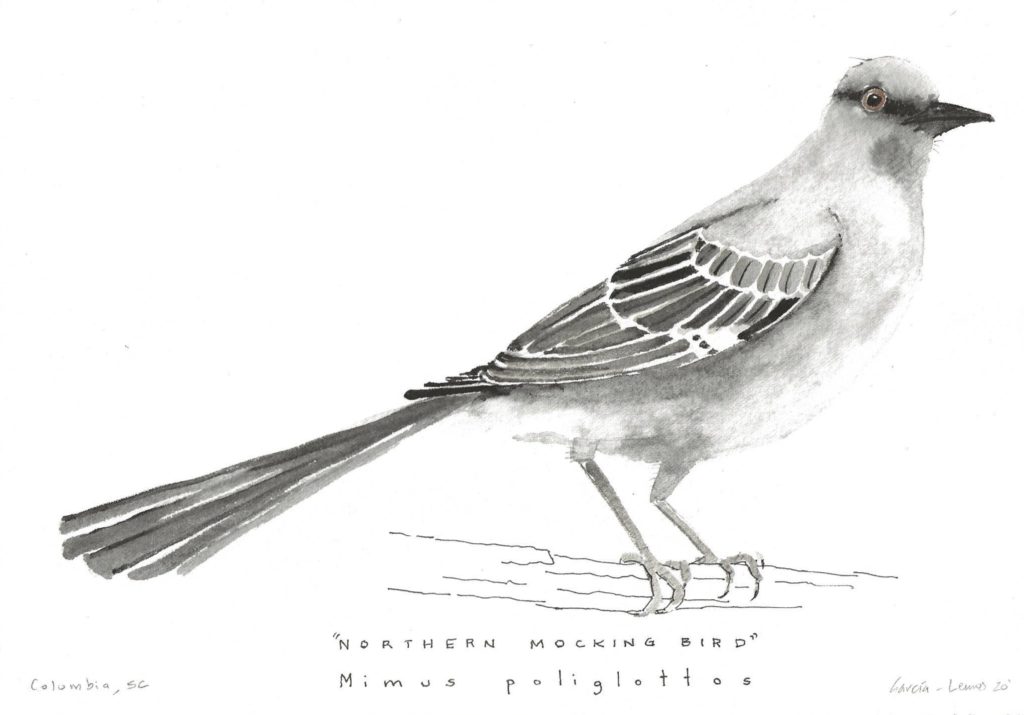 ---
Here they are in a ZOOM Meeting during Covid- 19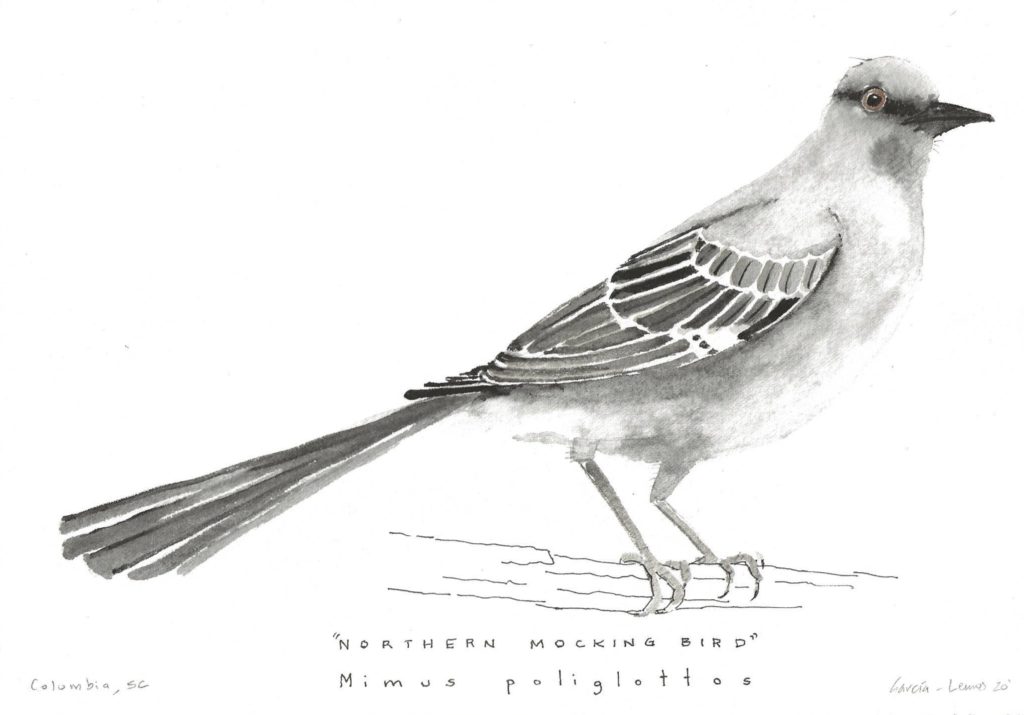 All drawings made on watercolor and inks on Aquarelle Arches watercolor cold-press French paper 100% cotton.
---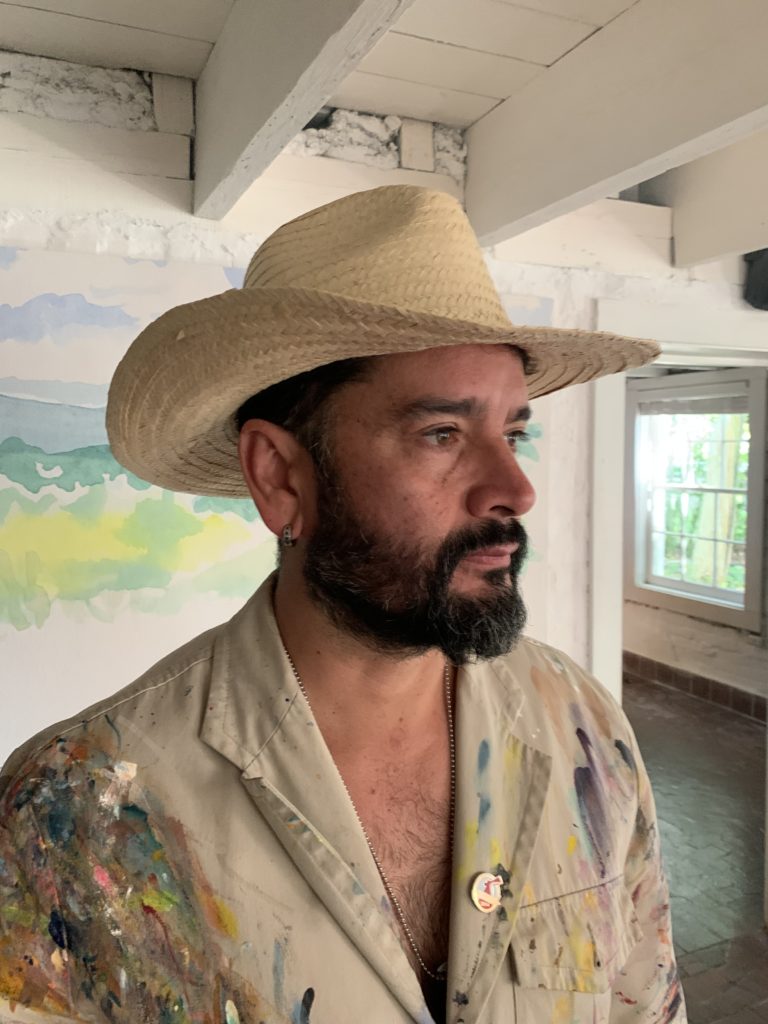 I couldn't help it, but I have to include this beautiful poem from the famous French poet Claude Aveline, since it seems very connected to this moment in my creative process, I apologize since it is in French, I will try to find a good translation and post it.
Claude Aveline
Portrait de l'Oiseau-Qui-N'Existe-Pas

Voici le por­trait de l'Oiseau-Qui-N'Existe-Pas.
Ce n'est pas sa faute si le Bon Dieu 
qui a tout fait a oublié de le faire.

Il res­sem­ble à beau­coup d'oiseaux, 
parce que les bêtes qui n'exis­tent pas 
res­sem­blent à celles qui exis­tent.
Mais celles qui n'exis­tent pas 
n'ont pas de nom.

Et voilà pour­quoi cet oiseau s'appelle 
l'Oiseau-Qui-N'Existe-Pas.
Et pour­quoi il est si triste.
Il dort peut-être, ou il attend qu'on 
lui per­mette d'exis­ter.
Il vou­drait savoir s'il peut ouvrir le bec, 
s'il a des ailes, s'il est capa­ble de plon­ger 
dans l'eau sans perdre ses cou­leurs, 
comme un vrai oiseau.

Il vou­drait s'enten­dre chan­ter.
Il vou­drait avoir peur de mourir un jour.
Il vou­drait faire des petits oiseaux 
très laids, très vivants.
Le rêve d'un oiseau-qui-n'existe-pas, 
c'est de ne plus être un rêve.
Personne n'est jamais content.
Et com­ment voulez-vous que le monde 
puisse aller bien dans ces condi­tions ?


Paris, 1950.